Come make our history yours!
Did you know that Indian River Bay is actually a drowned river valley or that Seaford is the birthplace of DuPont Nylon?
Did you know Harriet Tubman escorted a slave named Tilly to freedom through Southern Delaware?
How about that the now $90 billion broiler chicken industry started right here in a little house in Ocean View? Or that Rehoboth Beach was originally settled as a Methodist camp meeting?
Did you know that Southern Delaware is now home to a rock that fell from the sky several years and thousands of miles from the volcanic eruption that sent it into orbit?
When you explore Southern Delaware's history, you'll be in great company! Centuries ago Captain John Smith himself explored tributaries of the Chesapeake Bay and met the Nanticoke Indian tribe near what's now the historic town of Laurel. The history that's unfolded in the centuries since has been documented and preserved, drawing the attention of visitors and history buffs with fascinating sites and splendid stories.
In Southern Delaware, you'll find Native American History, Agricultural History, Maritime & Military History, Natural History, Industrial History, Architectural History, Social History, Aviation History, and Railroad History. We have charming seaside and riverside towns each with their own fascinating stories, including some stories that you might not want to listen to after dark. We have war stories and stories of political intrigue. We have pirates and shipwrecks and tales of buried booty. We have historic shipbuilding villages, picturesque farming communities, and quintessential beach towns.
Come visit us and delight in discovering our history through site visits; driving itineraries; custom guided tours; trolley, walking and boat tours, and our eclectic collection of 26 museums.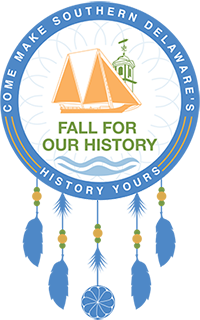 Fall For Our History every September, October, and November and make Southern Delaware's fascinating history part of your story! Click here to discover history related festivals, events, and museums to explore.
Take a look at some of the awesomeness you'll find along the Nanticoke Heritage byway...